Straight Clamp / SZ,SY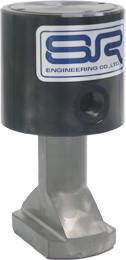 Outline
This is a clamp of T slot manual slide system which tightens between a U slot part of the metallic die plate and a T slot of the press by the direct power of a single spring return type cylinder.
Since the metallic die surface for tightening is wider, it is hard to produce a wound or a dent on the metallic die surface. The clamp is light in weight and is compact in size, and moreover is robust.
This is suitable for an upper die as safety measures. The kind of piping port can be selected as an option.
The hydraulic pressure used and a shape size differ between SZ and SY. Please choose according to your application.
Catalog of SZ,SY(PDF/230KB)

Related Products