Environmental Initiatives
Solar Panels
As an effort to protect the environment such as global warming countermeasures, energy self-sufficiency improvement, CO2 reduction, we installed solar panels at the Kobe Plant and the roof of the Miki plant.
The amount of electricity generated by these panels is equivalent to about 30% of the electricity used at the Kobe Plant and the Miki Plant, contributing to environmental conservation.
In addition, by installing solar power monitors and power demand monitors at the Kobe Plant and Miki Plant to constantly visualize the power generation situation and electric power usage, each employee can feel close to energy conservation and environmental conservation leading to self-awareness toward energy conservation.
Kobe Plant
Miki Factory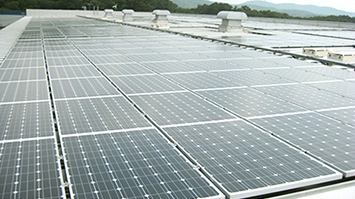 Solar Photovoltaic Monitor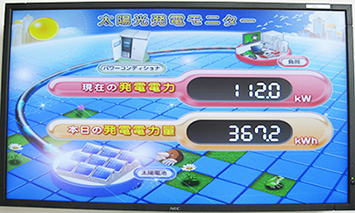 Specifications of Sunlight Panel
Kobe Plant
Miki Factory
Module Specification
TOSHIBA TA60M250WA/J
Number of Panels
200 Panels
741Panels
System Capacity
50kw
185.25kw
Beginning Date
for Service
March, 2013
March, 2014
LED Lights
LED lights are used in a factory and in office.
By using LED lights, the amount of used electricity in lighting is reduced to about 75% of conventional power consumption.